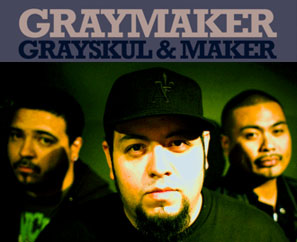 "Crazy Talk" – Graymaker
Audio clip: Adobe Flash Player (version 9 or above) is required to play this audio clip. Download the latest version here. You also need to have JavaScript enabled in your browser.
"Jeffery Bautista, Michael Martinez, and Marco Jacobo bring to you GRAYMAKER, a Robert Plant meets RZA like project that's destined for that classic territory of repeat play for years to come. GRAYMAKER is made up of two of the founding members of Oldominion and Rhymesayers Entertainment artist Grayskul, JFK / Ninjaface and Onry Ozzborn / Cowen plus super producer Maker of Galapagos4 / Glue. Grayskul and Maker have joined forces to bring to you an exclusive, limited edition, 11 song full-length CD titled GRAYMAKER brought to you by Taxidermy Records.
From song to song they take you on an expedition a journey that will get you high if your feeling low, It's powerful enough to make you sit down and think. Shit! Might be strong enough to make you put down your drink. From track to track the CD moves from being woke-up by their kids early in the morning for cereal to dealing with addiction and then on to that old hip hop bravado, talking about being better then you! All the way to girls, being judged by your peers, faith, and fictitious wordplay exploring real life situations.
GRAYMAKER is easily one of the most straight up, in your face, strictly Hip Hop albums that Grayskul has ever brought fourth in their career. With the wardrobe that was provided by Maker Grayskul really had no choice but to come hard, and as real as life itself.
With both Maker and Grayskul being seasoned vets in this beautiful thing we call Hip Hop this collaboration is left sounding polished and matured in a way only matched by experience and trial. Collectively these 3 artist have stood tall with the likes of Atmosphere, Aesop Rock, Glue, Abstract Rude, Living Legends, Qwel, Ill Bill, Qwazaar, Awol One, P.O.S., Slug and many many others through collaborations, tours, handling of each others production and just straight standing side by side and punching a mark in the face!
GRAYMAKER is exactly the type of thing that is needed not only in Hip Hop but in the music world altogether. This New CD by Grayskul and Maker is a reminder that cadence, substance, taking chances, and just plain upping your SPIT and production is still OK to show and prove in this here music."