Eighty Grand? Who? What? Huh?
|
So you're probably asking yourself "What is Eighty Grand?" Well, Eighty Grand is a creation from owner Pablo Sapien. A clothing company that stems out to various cultures and life styles. From Hip Hop to Rock A Billy and more. Spawned from Pablo's early appreciation for companies such as Ecko, Tribal Gear and Phat Farm.
"I really liked how those companies worked with musicians and artists, I really wanted to do something like that" Said Pablo. "It wasn't until two years ago that I actually started working on the brand, with the help of my wife and close friends. I teamed up with an amazing designer and started building our look, fast."
Eighty Grand is built around family and friends, and what they see in their surroundings.
"We're a bunch of kids from the 80's trying to make a grand" Pablo said. "Our team comes from different backgrounds, graffiti, low-riding, punk rock, and most importantly, hip hop. We have influences of old school, but really we're about bringing the new shit in street and urban wear".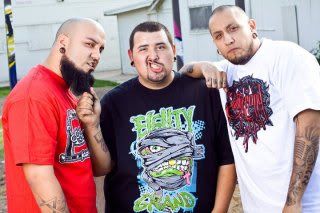 It seems as though clothing companies come and go these days, it's a tough industry. Pretty much everyone has a screen printer they can access. However, with time comes quality, and Pablo has shown that Eighty Grand has the quality and the designs to keep printing up new lines.
The hardest challenge for Eighty Grand isn't so much of a problem anymore. Prior to the turn of the year, Pablo was working a full time 9-5er like the rest of us coffee and nicotine fiends. But as soon as 2011 turned, he called it quits to focus full time on pushing the brand in the direction that he wants it to go.
"The first major challenge was finding the right printer, we went through a few companies and it wasn't until I met Rob of Bobby Fresh that I got all that figured out. He really helped me out in that process." Said Pablo on starting up the company. "Other than that, just not having the time to focus on the brand full time, but that changed as of January 1st, I retired from my 9-5 so I can dedicate my time to the brand."
Although Eighty Grand has helped release a couple records for artist Numbers and Spit Suicide (who also has an album coming out with LazerBeak of Doom Tree), they aren't a record label, more of a sponsorship or a collaboration with artists.
"In the future I would love to have a record label, but for now I just wanna focus on the clothing brand itself." Says Pablo.
So who can you see repping Eighty Grand, artists Dan Smack , Numbers, Spit Suicide, Op. Ex, Les and Mayra E, Izzy Neutron, Pickster One and many more out here in the valley. On a national level, artists such as Joel Ortiz, Yelawolf, Curren$y and Cory Gunz from Young Money have all been spotted rocking the brand.
"I do choose who we sponsor, and as long as your dope, having a great attitude and you're down for the cause." Says Pablo about the way he picks out the artists he sponsors.
The name Eighty Grand actually came out of left field with help from Pablo's wife Auna, but Pablo is sticking with the "We're a bunch of kids from the 80's trying to make a grand" approach.
Eighty Grand is all about repping Arizona to the fullest, but Pablo explains what he feels the scene out here is lacking.
"The biggest thing Arizona needs, well at least in the scenes  that I am involved in and apart of is unity. I started in the scene as a manager for an artist, that lasted barely a year, but it was enough time to see what Arizona lacked." Said Pablo "A lot of you can say that Arizona is full of haters and I agree. But  there are a lot of people out here that are trying to do the scene good, and those people will outlast everyone."
"Lastly, I just want to shout out to everyone that has supported me. Our crew, Team 80k, Universatile Music, Bobby Fresh, the homie White Shawn, the Beasteater fam, AOTA, FP, and TSOI crew. All my Facebook and Twitter fam, and most importantly my wife and family. I love you. Eighty Grand in the bitch and I'm out!!!!"
So if you're at all interested in picking up any of the designs from Eighty Grand you can do so at www.eightygrand.com www.beasteater.com www.drjays.com and coming soon to www.closetsmash.com and www.pickyourshoes.com. Also, if you live locally here in the valley, check out the Beasteater store front located on 5th St. and Mill ave (NE corner) they also carry Eighty Grand threads. Pablo also delivers locally as well if you can ever get ahold of him, haha! (I'm still waiting on my sweatshirt, homie!)
Keep up to date with Eighty Grand follow them www.twitter.com/80Grand